Meet Reza he runs his own school
Creative Folk, Entrepreneurs | November 9, 2018
We are on the quest to interview business owners over the age of 60. This week we visit Seattle Washington and chat with Reza Khastou who is founder of The Polytech a private school for students in grade 11-12.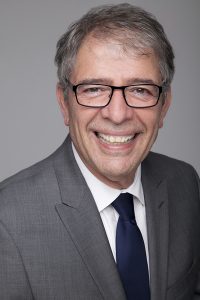 Can you tell me a little bit about your business and what you do?
The Polytech is a private school for students in grades 11-12 that allows students to begin earning college credits and industry certificates as part of their high school diploma. I'm an educator who helps high school students to find out who they are, what's their passion, and then connect them to that passion through career training programs at nearby community colleges. There are no other high school programs like this, so it becomes my job to make education meaningful.
What motivates you to keep working after 60?
I created an education model in the early 90's that connected high school students to college-level workforce education programs, and my students achieved much success through that program. My goal is to scale the program model so that high school students all over the United States are able to benefit from this model.
By starting a school, I'm taking the control out of the bureaucrats' hands and using that power to function more efficiently and to remove restrictions for students. I needed to have a whole career in education to understand how to serve students better, and now I can put all of those years of experience and observation toward achieving better outcomes with The Polytech.
What do you like most about having your own business?
I cannot blame anybody but myself. Besides holding students accountable, I hold myself accountable to implement the ideas that I believe can improve education. In a field where many people have ideas and opinions and often discuss everything wrong in education, I'm pleased to be offering a solution that works.
What have been some of the struggles you have faced with running your own business?
The challenges are reaching my target audience, swimming against the thoughts that dominate education today, and bringing the K-12 systems and community college together. The Polytech functions as a bridge between these two systems, allowing students who are ready to move ahead early access to advanced studies, and students who are disengaged from learning the opportunity to experience career training and to build confidence before they graduate.
What are some of the most important lessons you have learnt in life?
Persistence is at the top of that list. It is much easier to persist when you have such a strong belief in our vision, which gives the power of conviction and the ability to persuade other people to join this mission, creating followers, with me as their leader.
What advice would you give to the younger generation?
Try to become self-actualised. This is such an important accomplishment and I spend much of my time trying to help young people figure out who they are and what they want their role in the community to be. It is very powerful when they decide their own role, and don't feel they are a victim of their circumstances or the world outside.
If you could jump into a time machine what era would you visit and why?
I would go to the 50s and 60s in the United States. I grew up in Tehran, and as a teenager, I watched many American shows on TV, giving me an unusual view of what life was like in the US. I was always especially infatuated with Room 222 and Flipper, and it created a dual world for me where I became part of 2 drastically different environments: reality and this dream place I visited through my TV. Later, when I came to the US for graduate school, I was disappointed not to have my own Flipper walking with me to school, but I did get the opportunity to open and run my own school. And I do have a fish tank in the front lobby!
Anything else you would like to add?
I'm so excited about the future and the opportunities it brings to me. Opening this school and running my own business gives me a great amount of energy that allows me to move past 60 with more confidence and optimism than when I was younger.